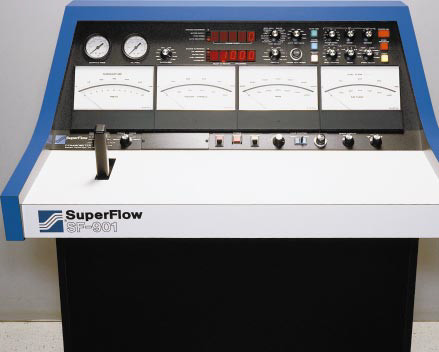 CrossTown Engines offers Dynamometer Service for following Engines:
VW/AUDI
HYUNDAI
MITSUBISHI
SUZUKI
SUBARU
VOLVO
CrossTown Engines offers Dyno Testing with SuperFlow 901
SuperFlow 901 Overview
The SF-901 engine dynamometer was a workhorse in engine testing from the day it was released in 1982. Thousands of SF-901 engine dynos were produced and hundreds if not thousands are still in use today. The problem, the data acquisition system was designed in 1978 so it lacks features and capacity to adequately test modern engines and the majority of the electrical components required to service the data acquisition and control system are no longer available.
To help, we've developed a conversion kit to replace the dated SF-901 electronics with our latest WinDyn 3.2 data acquisition and control system. This upgrade allows SF-901 owners to keep the functional mechanical portion of their dynos and upgrade to the latest WinDyn data acquisition and control system making the dyno perform like new for less than half the cost.
The SF-ED-901 conversion package includes
New sensor box with 139 user configurable data channels
16 channel thermocouple panel
10 channel pressure panel
2 pre-configured air fuel inputs (0-10v)
New control console to control tests, control engines and control the entire test cell
New computer system factory configured with WinDyn 3.2, two 22 in. LCD monitors and a color printer
New operator desk with integrated throttle handle and cable replaces the existing hydraulic throttle system
The current WinDyn system is ¼ the size and 100 times more powerful than the SF-901 giving you more data channels, better testing methods, higher resolution test data and a suite of modern testing tools to get the most out of your engines. WinDyn is easy to use, ready to run and ready to adapt to your needs.
Major benefits of the SF-ED-901 conversion package
Keep the functional mechanical portions of the SF-901, saving money
Data acquisition rates up to 2,500Hz - an increase of 100 times over the previous 20Hz rate for higher resolution data and finer analysis of engine performance
Automatic weather station improves test accuracy, repeatability and credibility
Improved engine control for excellent repeatability
Automated, ready to run test profiles with user defined sweep rates
Ability to integrate automatic throttle controllers or send a control out signal for fly-by-wire throttle
Advanced data analysis features
playback any saved test
plot or overlay up to 10 tests at a time on the graph
plot multiple channels at a time, for example plot air fuel ratio and torque
Migrate from an obsolete DOS computer to a modern Windows environment
Windows file structure - save virtually unlimited numbers of tests
Save data in folders organized by customer name or engine type including multiple subfolders
Email data files or export data into a customer data pack that customers can take with them
Analyze or store data on any Windows computer for better file back up
contact us for more details @ 416-691-2355 / info@crosstownengines.com 
Technical Tips for Engines - CrossTown Engines - Remanufactured Engines One of the interesting links that we suggest you read would be what you get when rebuilding auto engine. What do you get in a reman engine? When you choose a reman engine, you kiss your old engine and its nagging problems goodbye. In exchange, …